It's always your fault when some rear ends into your vehicle. According to most insurance providers and police officers, this is the case. A dashboard camera on the windshield might be a good idea. Using a dashcam can protect you from financial loss, save you time, and even deter thieves from taking advantage of an accident. Only the best dash cams will give you the results you're looking for.
The best dash cams do not here mean the one that will cost you an arm and a leg; it means the one with all the required features and is within your budget. The only company that comes into anyone's mind that fulfills the requirement of having all the advanced features and yet is budget-friendly is Crosstour. For that reason, we have personally tested a few popular Crosstour dash cams and reviewing them here so you can choose the right model for your car.
CR250 Mini Dash Cam: (wedge-shaped, compact size, extremely low price)
It was released in March 2019 by Crosstour (a Chinese company) as their single-channel dashcam. This dashcam is well-liked and well-reviewed on Amazon.
Features:
Lightweight and good quality
From the construction standpoint, the camera is lightweight, and like many other wedge-shaped dash cams, the CR250 is also an adhesive-mounted cam. The material and build quality are good. When it comes to cameras in the $30 price range, good build quality is a plus because most cameras in this price range are relatively cheaply constructed and frequently suffer damage in the heat.
SD Card
This mini dashcam support only Class 10SDHC cards with a capacity of up to 32GB (the micro card is not included with the cam). Backup files are only made possible using the camera's battery. It is necessary to have an external power source to operate.
Intelligent sensing of motion
As a result of the camera's built-in sensor, it will automatically begin recording in standby mode once you pass in front of the lens. It might help to keep your vehicle safe and evidence safe even though you're not inside the car at the time.
Installation is simple
Install the camera by applying adhesive, wiping the windshield clean, connecting the car charger, inserting the micro SD card, and starting the car. It is quite simple. Please charge the switch camera in your car using the car charger that was included.
Day and night excellent video quality
With its big F1.8 aperture and innovative WDR technology, this camera can produce outstanding 1080p photographs even in low-light situations. You, your loved ones, and your friends can feel secure knowing that you've got this as a backup plan.
Adjustable lens
The lens can be adjusted to accommodate your needs if you require additional detail capture. It is capable of covering four lanes with ease and ensuring that there are no blind corners in front of the vehicle
24-hour parking monitor
Suppose your car comes to a complete stop. In that case, the engine does not start, and an external force is detected. The trip camera will immediately turn on and begin recording a 30-second video to prevent it from being scratched or stolen and to protect your vehicle.
Pros
The camera's small and low profile design, dark and stealthy, make it hidden and non-observative.
Combining a large F1.8 aperture and HDR technology provides improved night vision.
Adjusting the lens makes it possible to take photographs with fine details.
Cons
Automatic loop recording may not function.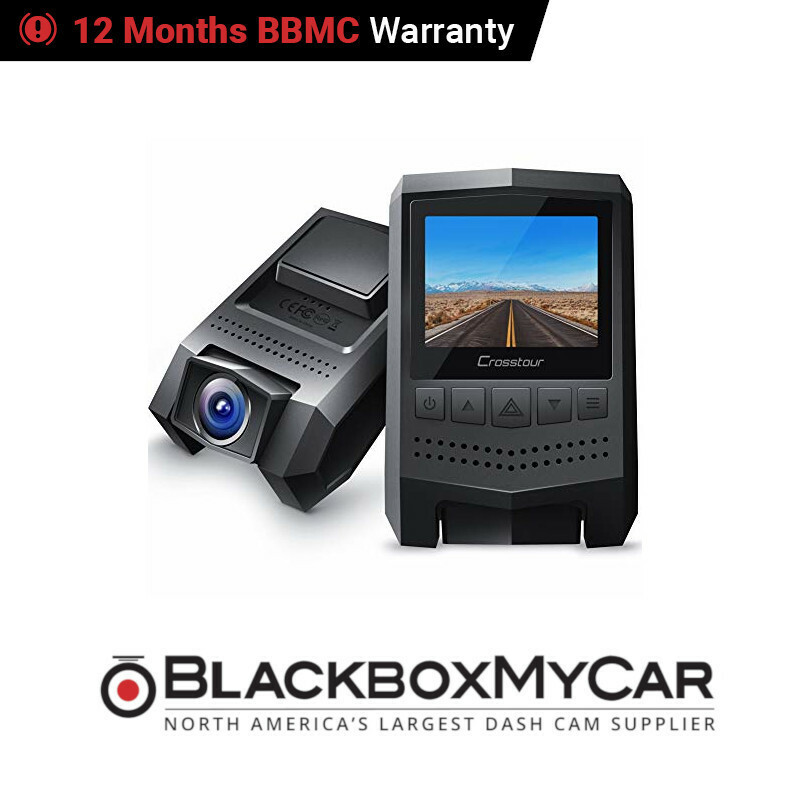 CR350 (HD, Front and Rare cam, low price)
Once again, Crosstour has come up with high quality and features a full dashcam at a very low price. You can get this cam only for $40 on Amazon, and it has all the features of any other expensive dashcam. Its dash cam offers a 1080P mini car tachograph, parking mode, motion detection, loop video, super night vision, WDR, F1.8 aperture, 170 degrees wide-angle, and much more.
Let's have a look at its features in detail.
3M sensing of motion
Any movement in front of the lens will trigger the camera's motion detection and begin recording for up to 10 seconds. Only in standby mode may motion detection be activated. To use the camera while standing, you may need to purchase a wire kit (not included) to connect the camera to a battery or fuse box.
Smart recording options
When the track recording option is enabled, the most recent video will automatically overwrite the oldest footage when the SD card's maximum capacity is reached. The locked video, on the other hand, will not be replaced. We recommend formatting your SD card once a week to avoid overly locked videos from eating up valuable storage space.
Compact design
The dimensions of a compact camera are 85mm * 50mm * 10mm. The Switch Camera may be concealed under the sunscreen due to its small size and compact construction. From the exterior, it is virtually indistinguishable due to its small black appearance.
The dashboard camera is designed with a minimal footprint to ensure that the driver's field of sight is not obstructed while driving. When you place it behind the sunscreen, it becomes practically indistinguishable from the sunscreen.
Power saving option
After a while, the screen will switch off while recording to conserve power while the camera is still in use, for those who prefer to keep their screens open while recording, get in setup mode and toggle off the screen saver setting.
HD Playback Mode
The video can be played back on the same device as it was recorded on, allowing you to check the video at any time and from any location, which is especially useful in the case of an accident or when playing a closed video. On the top screen, there will be a button to press.
Standby recording for 24 hours monitoring
When the camera is in standby mode, it will automatically start recording locked videos for 30 seconds if it detects an external force. Then turn it off to avoid draining the battery. Unless your car is constantly being kicked, the camera can run all night if it is charged fully throughout the day.
Pros
The CR350's 3 inch 1080P LCD dash camera with 6 glass lenses can record actual situations in 1080p resolution.
Installation is easy. Slide joints on the camera body attach the camera to the suction mount.
The dash camera is triggered when the parking screen senses an external force during parking.
Built-in G-SENSOR Driving Recorder – Saves and protects recorded data in the case of a car collision, preventing the video from being overwritten and allowing you to record vital videos in an emergency.
Cons
Soma users have complained about the breakage of the slide joint used for installing the CR350 dashboard camera.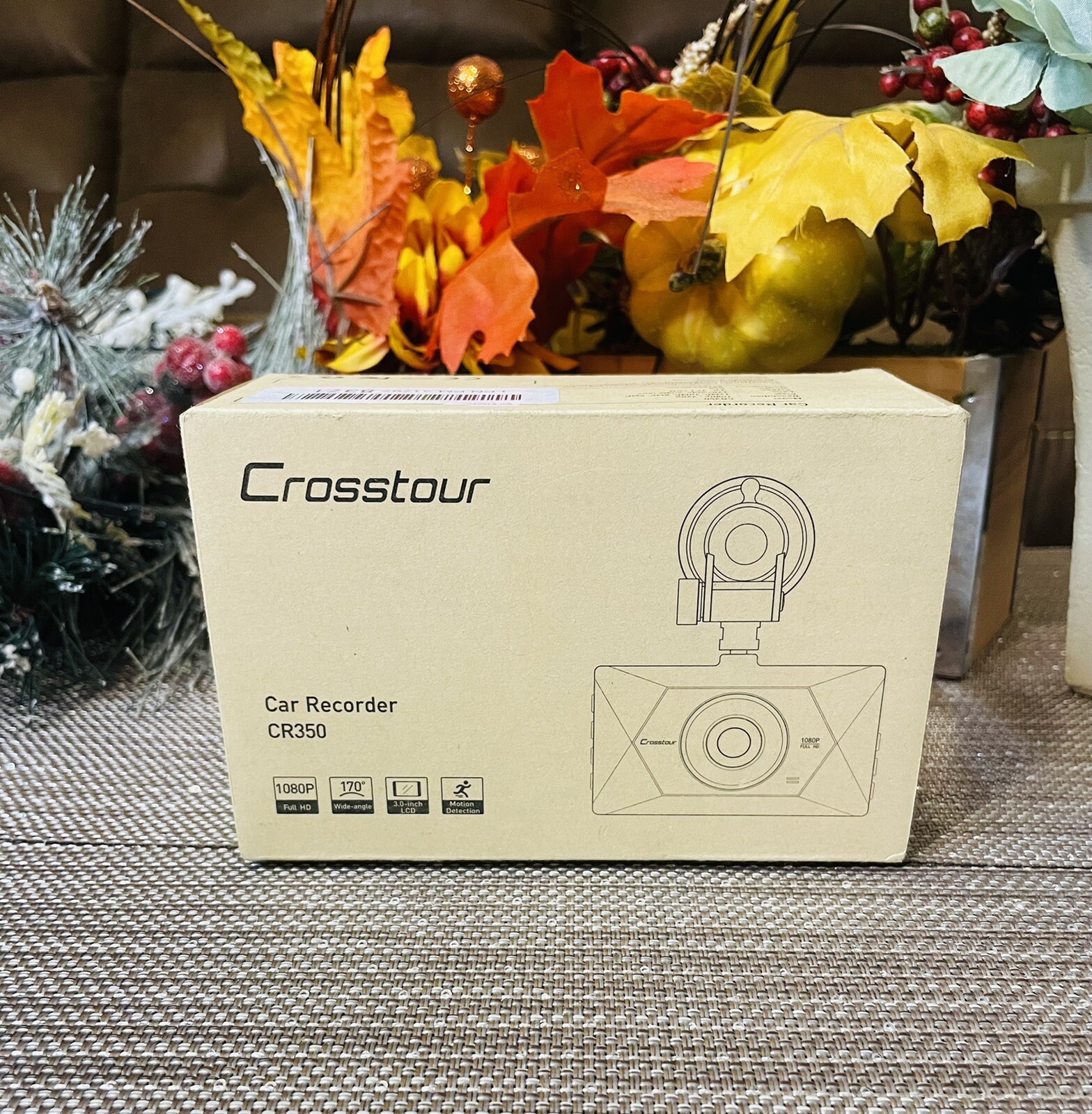 CR900 (6 glass lenses, advanced sensors)
The Crosstour CR900 is an improved version of the Crosstour CR600 dashcam. The most noticeable change in this edition is the new design, which has dual 1080p video recording capabilities. The CR900 is equipped with modern sensors and a glass lens assembly consisting of six pieces. This camera module contains a Novatek chip, a breakthrough piece of technology. It offers the CR900 a competitive advantage over all of its competitors.
Features
Easy setup and installation
The Crosstour CR900 dash camera's setup and installation are comparable to most other two-channel dash cameras. To complete the installation, you'll need to run 2 cables from the front camera, one for power and another for the rear camera. Running the wire for the rear can be a time-consuming endeavor depending on the vehicle.
Easy to operate
The CR900 is 75 grams in weight. The built-in screen is a major factor in the device's size. You can access the camera's settings and watch videos without removing the SD card with this feature. The side buttons provide you access to the menus, where you can adjust the resolution sound and enable or disable features like the GPS and G-Sensor. The rear camera has a 240-degree field of view, while the front camera can rotate 45 degrees in any direction.
Excellent day night recording quality
The video quality of the CR900 is pretty good for a dash camera in this price range. While daytime recordings are sharp, it is not always possible to see license plates unless the car is right in front of or behind you. Even if the low-light recording is just average, it is still acceptable for the price range. It should also be mentioned that, even though the rear camera is 1080p, the video quality is noticeably worse than that of the front camera.
Pros
The camera is easy to operate and understand.
Both left and right and up and down can be achieved by swiveling the front lens.
In the back camera, there is a switch that allows you to rotate the video up or down.
Cons
The maximum SD card size supported is only 32GB, which is pretty small.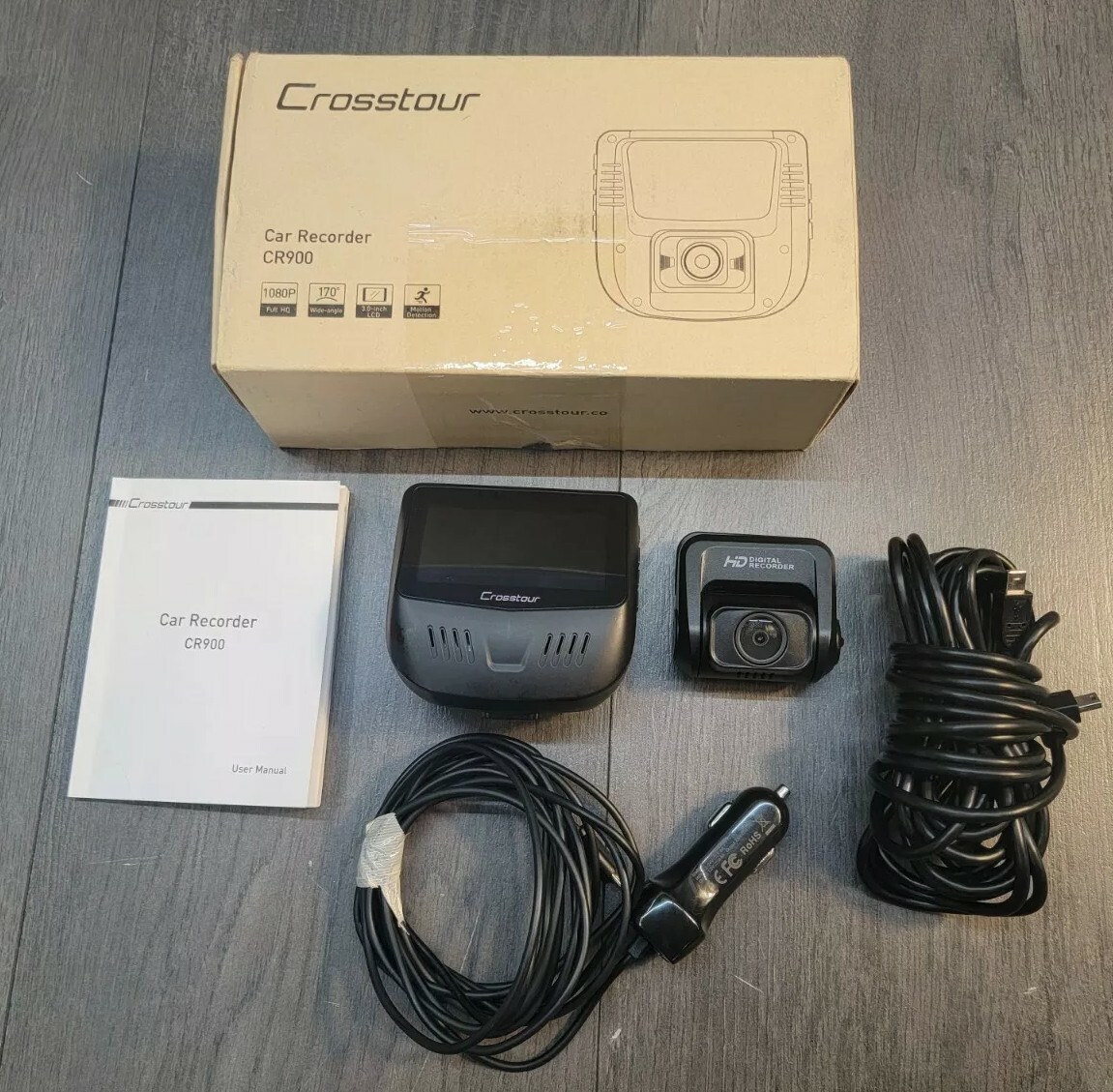 CR750 (Dual Lens, Full HD, built-in GPS)
This dashboard camera by Crosstour has many features that you will not find in any other brand in the same price range. It is equipped with a 2.4-inch LCD screen, a driving recorder, and six high-definition glasses with dual lenses that can simultaneously record the situation in front of and inside the car.
Features
Dual Lens
The Crosstour CR750 dashboard cam has two lenses, one for front and one for rare camera. Its front lens is 1080P full HD, has 170° wide angle while the rare camera lens is 130P and has 720p wide angle lens.
Security lock
It is possible to use the built-in G sensor to ensure that if the camera falls or wobbles suddenly, the current video will not be changed even if the camera is restarted. When a tremor occurs, the video's current recording is paused for 20 seconds to prove the claim.
Built-in GPS
Before this, the other models of Crosstour dashcams were GPS enabled, but you have to purchase a separate GPS. But CR750 already has integrated GPS that automatically records your vehicle's speed, location, and coordinates. This tool allows you to look up information about your travels. And you can also share them with others.
Super night vision
The tachograph's ability to see at night is a critical measure of its performance. F1.8 aperture, WDR, and high-sensitivity image sensors ensure superb night vision in the Crosstour CR750's six FHD glass lenses.
No blind spots
Reduces blind spots and gives you a unique driving experience thanks to the 170° broad front angle.
Pros
The driving recorder has a 2.4 inch LCD screen and dual lenses.
Excellent night vision
Built-in GPS recorder records the videos automatically if they experience any external force.
Cons
The loop recording sometimes does not work.
CR700 (1080 high definition, capture still and moving images, economical)
In comparison to the cameras above, the Crosstour CR700 has many reviews. It's the Crosstour's top-of-the-line camera, with everything you'd expect in a car dashboard camera.
Features
Loop recording
The Crosstour CR700 begins loop recording as immediately as your engine starts. It clears your memory card for the next recording by automatically deleting material that is no longer useful.
3 M motion detection
The CR700 will start on its own, allowing you to focus on the road. If the sensor detects any movement within 3 meters of the camera, it will begin recording immediately, safeguarding you from theft and damage. The recording stops after 10 seconds if the entity stops moving to save space and energy.
170° wide angle
Everything that happens on the road, including up to four lanes of traffic, should be recorded. All of the information you require is captured in 1080p high definition by the 6 layers of the fixed-focus lens. Excellent night vision means that film will be sharper in all lighting circumstances.
Emergency protection
In an accident, the gravity sensor will immediately prevent the video from being deleted while it is being recorded in loop mode.
Pros
The automatic on and off feature means you only have to concentrate on the road.
Built-in G-sensor does not miss recording anything that happens while you are not in the car.
The file protection feature keeps the footage safe in case if camera collapses.
It can play 30 FPS.
Suction mounting.
Cons
Some customers have complained of the camera got flimsy.
What to look for when buying a dashboard camera?
A dashcam is, in essence, a device that records your driving in real-time while you're behind the wheel. In addition to proving fault in the event of an accident, capturing what is going on around you can be used to monitor your teenager as they learn to drive, among other things. Dashcams are also becoming increasingly affordable and user-friendly, making them more accessible to people outside of the tech-savvy and early adopter communities.
But there are various factors to consider before making a purchasing decision. The fact that a dashcam is, at its heart, a camera means the most important considerations about the camera and video quality. The software does have several other capabilities that may be of use to you aside from this one. Things like GPS and Wi-Fi connectivity enable more intelligent recording, while more storage allows recording more footage. A built-in display is also available, to mention a few examples.
1. Extensive memory
Most dashcams use a micro SD card, which means you can choose how much storage space you have. It's important to note that a dash cam's video file saving method limits the amount of footage that may be captured.
Almost any dashcam may be set to record while you're behind the wheel. Saving all of that video would deplete the SD card's storage capacity and make it difficult to identify any particular occurrence that occurred while it was recording. Choosing a dashcam that automatically loops recordings is essential. Choosing a model with built-in G-sensors that start recording as soon as an impact is detected when you are not in the car.
2. Resolution
When shopping for a camera, the most critical feature to look for is the camera's resolution. For the most part, the number of vertical pixels in an image serves to describe the camera's overall resolution. There are 1,080 pixels per inch in a 1080p camera. The vertical resolution of a 1440p camera is 1,440 pixels. As a rule, the more pixels you have, the better. A clearer image is possible when a camera can record more pixels, which is an important consideration.
3. The angle of view
A camera's field-of-view (wide or narrow-angle) measures how far it can see, and it can vary widely. In contrast to some cameras, which have a small field of vision, others are deliberately built to have broad fields of view, which allow customers to see much more at any one time. That comes with its own set of drawbacks. The pixels are more widely spaced out when the field of view is excessively wide.
4. Adhesive or suction cup mounted
Adhesive or suction cup mounts are commonly used to attach dash cameras to a car's front and rear windows. Although suction cup mounts appear practical and straightforward to use, they are not advised because they are readily removed from the windshield and are more susceptible to automobile vibration, which causes video footage to be jittery and indistinct. Most dashboard cameras rely on adhesive mounting since it is more robust and trustworthy in a car.
5. GPS Enabled
The addition of GPS to your dashcam can provide some additional capabilities and functionality, even if it is not a feature that you will need require. With GPS connectivity, you'll be able to record the speed and location of your vehicle in addition to the film, and this additional information may be useful in determining the outcome of a dispute.
6. Night vision
Finally, night vision may be an important factor for some drivers, particularly those who commute a lot at night. As a result, night vision could be the deciding factor in demonstrating your innocence or guilt in a car accident if it's too dark for your camera to see.
Thanks to night vision, you can see what's going on even in the darkest of conditions. When all you want to see is the license plate number of the individual who hit you, the footage may not be as vibrant as it would be during the day.
FAQs:
1. Where does the power for dashcam come from?
The power source you utilize is determined by the model you are using. The majority of them are wired to the automobile, while others connect to 12-volt power sources, and there is even some that function on battery power. Each variety has its own set of advantages and disadvantages, and which is the best is ultimately a matter of personal opinion.
2. Can a dashcam save your life in the event of an accident?
No, a dash camera will not be able to prevent an accident. It is simply in there to get an accurate record of what occurred during an accident, and it has the potential to save you big bucks in the event of an accident.
3. Is dashcam legal?
Yes, dashboard cams are permitted in the United States. In the United States, no laws prohibit their use in any way. There are, however, rules that prohibit you from placing the dashcam in some locations, and you should become familiar with the regulations in your local area before mounting the camera.
4. Is a dashcam constantly recording?
Dashcam cameras normally begin recording as soon as you turn on your vehicle, except battery-powered ones, which can begin recording as soon as you switch on your vehicle. There may be customized settings available that you can utilize if necessary, but this feature is generally reliable for most drivers.
Final verdict:
All of the dash cams of Crosstours have their pros and cons, and all are good in serving the purpose. But if you ask my opinion, I will recommend going for the dual (front and rare) cams because these cams record the traffic on the road and record what is happening in the car. It also records the conversation done through the driving seat window (which can be helpful in the event of an accident). As far as the price is concerned, all of the Crosstour cam's prices are very low compared to its competitors.